Welcome to the Marbella Swimming Club!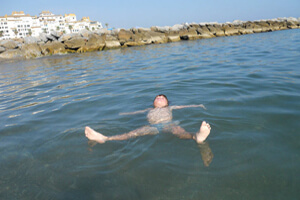 We provide swimming lessons, water gymnastics, aqua health-fitness, slimming and anti-stress programmes for all ages.
During the winter months, activities take place in indoor swimming pools. During the summer months, we use outdoor swimming pools.
We also offer personal trainers who can come to your home and give swimming lessons or water gymnastics in your own pool in the Marbella to Estepona region.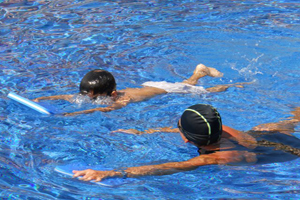 Swimming... The Vitally Important Experience
The Earth looked like a large drop of water slowly turning in space.
Yuri Gagarin, First man in space
He, who can neither read nor swim, is unworthy to be called a citizen.
So they said in Ancient Greece when speaking about humanity and from time immemorial the ability to read and swim was considered to be critical to the all-round development of the human being.
The History of Swimming
As early as 4,000 B.C. there were hieroglyphic drawings demonstrating that swimming was part of life. Swimming as part of education goes back to 2,500 B.C. when in the lands of the Nile this was considered a privilege of the aristocracy and was obligatory for the children of the Pharoahs. On the tomb of Sety, ruler of Egypt at that time, remains to this day an inscription that translated as, "I have been for swimming lessons with the children of The Pharoah".
In Athens a man who could not swim was counted as 'a cripple'. Especially important was the significance of the swimming experience to lands surrounded by water and from the dawn of humanity people understood the curative qualities of water. Even the origin of the word "hygiene" comes from Greek, meaning "to be healthy".
"Romans with every illness should seek treatment from water," asserted the philosopher 'Pliny' in the year 500 A.D. Of course there were no "doctors" in the modern sense of that word and it was customary for Romans to swim two or three times a day to maintain their health. Even today, Roman Baths in the town of Bath, England, one can see the curative effects of bathing.
Competitive swimming originated in Greece around the year 1330 B.C. at the so-called "Isthmus Games" held in a different part of the Greek Empire each year and in Hermion for the festival or the Marine Sovreign Poseidon. Early events took place over quote short distances of around 100 metres and over the centuries long distance swimming also became popular.
In 1875, Matthew Webb aged 27 and a Captain in the British Navy swam La-Manche, or The English Channel as we now know it, for the first time, a distance of 34.5 km.
The Olympic Games in their present form features sport-swimming as the core sport, second only to Athletics in significance and importance and offers a grand total of 96 medals: 32 gold, 32 silver and 32 bronze.